Websites for Coupons are beneficial for so many reasons, for so many budgets, and for so many items. Couponing is the thing to do right now and you need to know the best websites for coupons in order to maximize your shopping experience. While there are many sites that promise coupons, there are only certain websites for coupons that actually let you find the coupons you need. The 8 best websites for coupons that I have found so far are listed below. If you haven't already found them online, they're sure to make your coupon agenda much better!
---
1

GetItFree.us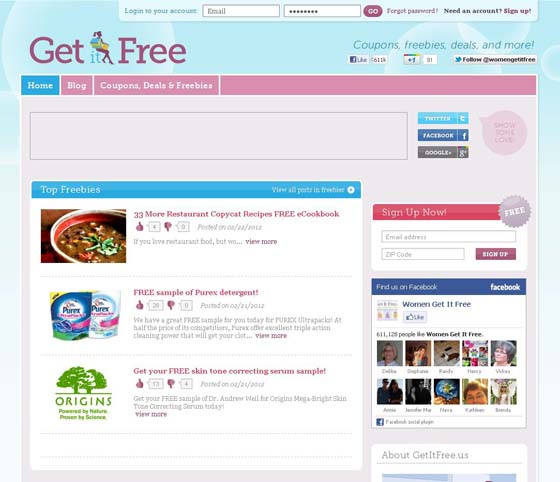 This website is great because not only does it give you a page to "clip" and print coupons, it also has an updated list of freebies you can sign up for. Don't be shy about going down through the list and signing up for these free samples. Many times, when you get the free sample in the mail, it will come with a coupon or two, which is, after all, what we're after, right?
---
2

Coupons.com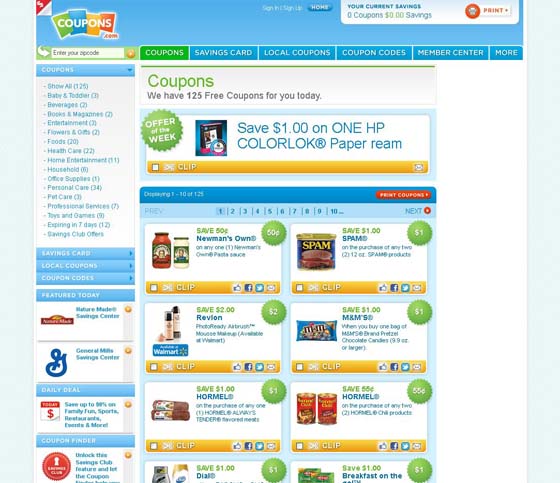 Of all the websites for coupons, this one is the most obvious, I guess. Here again, getting your coupons is as simple as "clipping" and printing. Most of the time, you can print each coupon twice, and it will tell you when your limit has been reached. Clipping multiple coupons and printing at once will allow you to print more coupons to each piece of paper and save your printer paper. Another great part of this website for coupons is the coupon codes you can access. Currently, you can find coupon codes to save 15% and 20% on online orders at kohls.com, childrensplace.com and a 30% savings at gap.com! I like savings like that, don't you?
---
3

KrazyCouponLady.com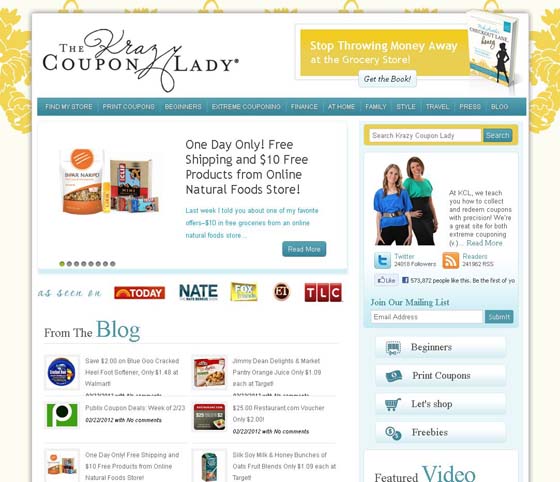 This is probably my most favorite website for coupons ever! The Krazy Coupon Ladies not only provide you a huge list of printable coupons, they also daily update their page with tips for making the best deals count. Because of this site, I was able to get 5 Gatorades for free - completely free - the other day! Just be warned, they use the coupons listed in their deals, but many times, they include coupons that you would find in your local Sunday paper as well, so the only way to put their tips to use is to make sure there are other sources for coupons other than just their site.
---
4

CouponNetwork.com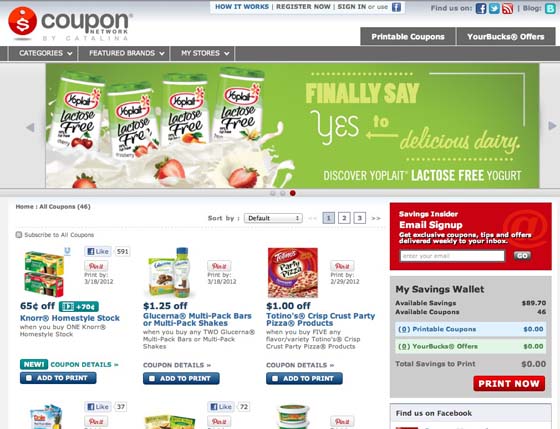 I know that some of these websites tend to have some of the same coupons, but that's not always a bad thing. Many times, you will need more than one of the same kind of coupon to get the best deal. CouponNetwork gives you a good selection of coupons, however, to match your shopping area. For some of you lucky readers who happen to live around a Publix, your couponing could prove to be the most
---
5

Pillsbury.com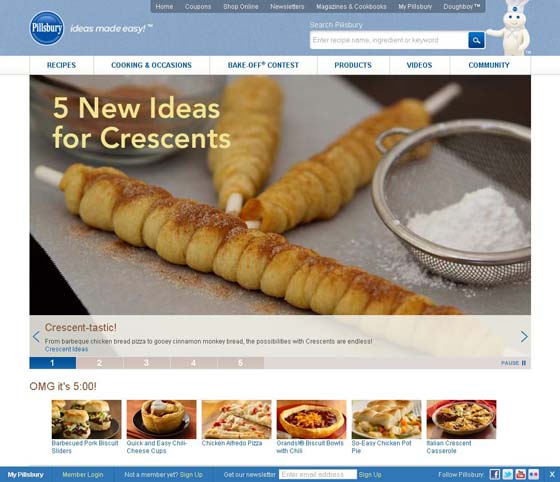 All things Pillsbury plus some, ladies! If you're into sweet rolls and pizza crust, you can find great coupons here. But hey, let's not stop with coupons! Pillsbury.com has coupons for purchasing their products (and other great products, too), plus tons of great recipes and even a community of members who swap recipes and other great conversations! It's a one-stop shop, so to speak.
---
6

CouponDivas.com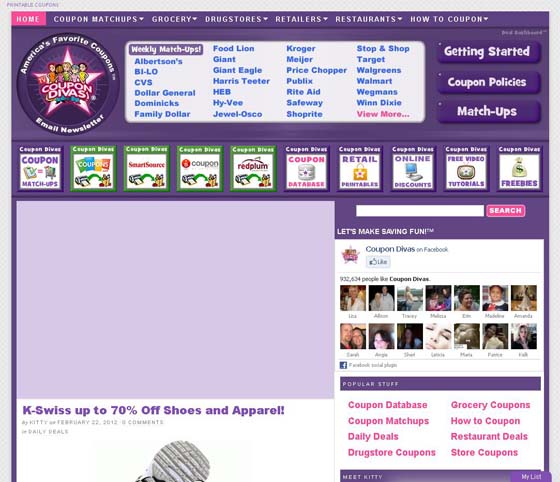 Coupondivas.com is another great website for coupons, much like the krazycouponlady site. Not only can you find great savings, you can also read the weekly sales tips for each individual store and watch videos that explain all the secrets to a successful couponing trip. Remember, getting the best deals out of shopping is not only using coupons, but using them wisely with the help of your weekly sales and deals. These forces combined give you maximum savings and a much smaller hole in the purse!
---
7

CouponAlert.com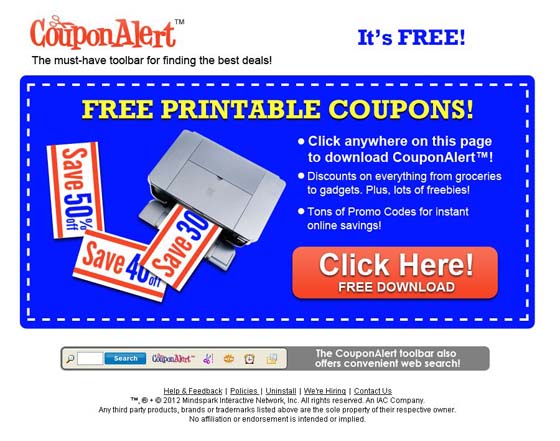 I don't know how you feel about downloading toolbars, but I've found this one to be pretty good. CouponAlert will give you access to several different coupon sites and also has tools to help keep you "in the know" with the ones that are expiring soon and whatnot. I'm not usually one to download things like this to my computer, but I'm happy with this tool and use it quite frequently!
---
8

CouponMom.com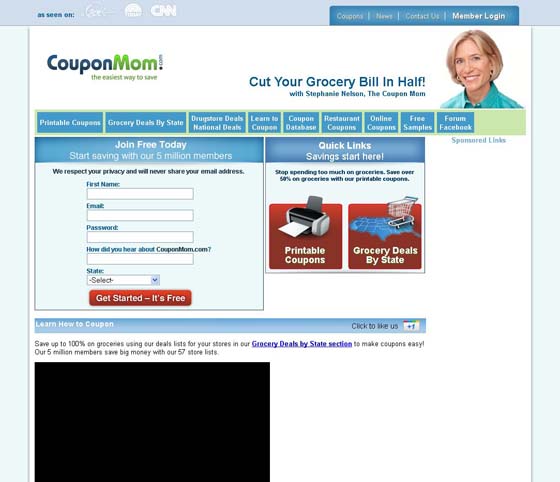 Couponmom.com is another site where you will find lots of links to great coupons and other freebies. (I love freebies, don't you?) You can also find tips for couponing, blogs and forums and even great restaurant coupons! My Olive Garden date with my hubby the other night was $4 cheaper thanks to a great coupon I found! This is definitely one of the websites for coupons you'll want to add to your favorites list!
The best websites for coupons are the ones that yield good coupons without the hassle of surveys and other junk just to get through. I've done my best to give you the 8 best websites for coupons that I have found so far, but if you know of a great one that wasn't listed above, I'd love for you to share! By the way, if you're into couponing like I am, what is the most money that you have saved in one shopping trip? Feel free to let us know about other great websites for coupons as well!
More
Comments
Popular
Recent