This summer has brought back the love of my bicycle **and I'm really enjoying riding it through the park and around town. Growing up near the city with lots of neighborhoods it was easy to get around on your bike. Whether you would ride it through the park, to your friend's house, or to the local pool, a bike was something you needed as a teen. As I grew up my bike went with me, even to college, it was really great riding it to class. But one summer break my good old bike got stolen and not until this passed Spring did I finally get a new one. So thinking about my love for bicycles **I found these really great ways to show off that passion; could one of these items end up in your home?
---
6

Bicycle Art...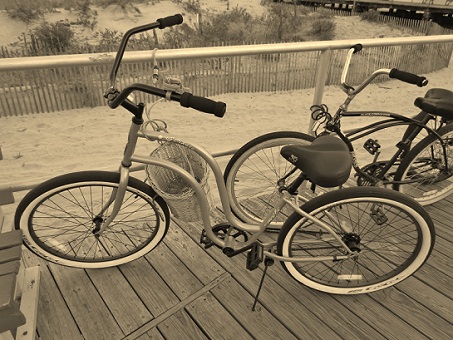 Photo: Taken by self.
While we were on vacationlast week we saw these great looking bikes **and this one with the adorable basket was my favorite. The actually color of the bike is a beautiful light blue, but to turn this photo into a more artistic view I did a little editing and made it into an old time print. I just love the shot of the **bike **on the boardwalk with the beach in the background. Do you have bicycle art **or prints hanging on your walls?
---
5

Bicycle Key Rack...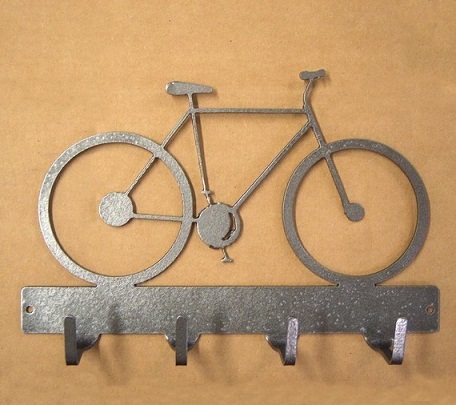 Price: $15.99 @ Etsy.com/shop/KnobCreekMetalArts
How neat is this handmade steel bicycle key rack, the details and the design of the bike are amazing! Not only does this have a purpose to it, but it will also look pretty cool in your home. Now when you go out for a ride on your **bike **you won't forget your keys!
---
4

Buckle up...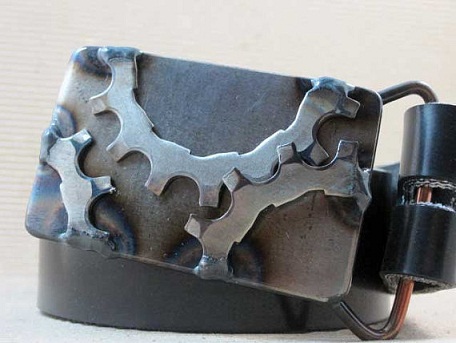 Price: $35.00 @ Etsy.com/shop/RhythmicMetal
Though I don't wear belt buckles as big as this I couldn't resist adding this awesome handmade one to my **bicycle **post. I bet this would be a cool gift for thebike loving guyin your life, especially when you tell him it's handmade from a recycled bike cog! When you check out the rest of this bike heaven shop you'll even find recycled bike chain buckles.
Continue Reading...
---
3

Animals on Bicycles...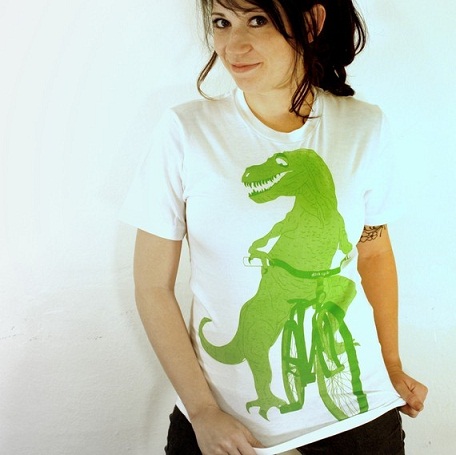 Price: $21.00 @ Etsy.com/shop/DarkCycleClothing
Who doesn't love an animal riding a bicycle! My best friend has an adorable scrapbookingstamp with a big bear riding a little bike so I knew I had to find something similar for this post. I just love this big green dinosaur's smile and the way he is holding onto his bike; he's ready to ride!
---
2

Personalized Stamp...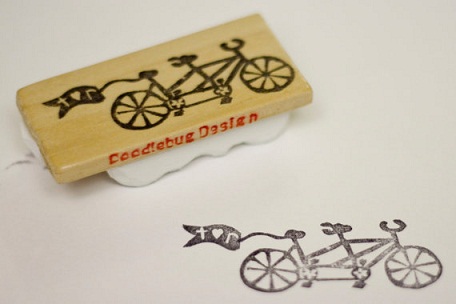 Price: $15.00 @ Etsy.com/shop/Doodlebugdesign
Speaking of scrapbookingstamps, how sweet is this personalized** rubber bicycle stamp**! This would made a cute stamp for engaged couples sending out save the dates and thank you cards or just anyone looking for a stamp to personalize their stationary. Ask the shop owner to personalize **the flag with your initials and your **bicycle for two is ready to go!
---
1

Born to Ride...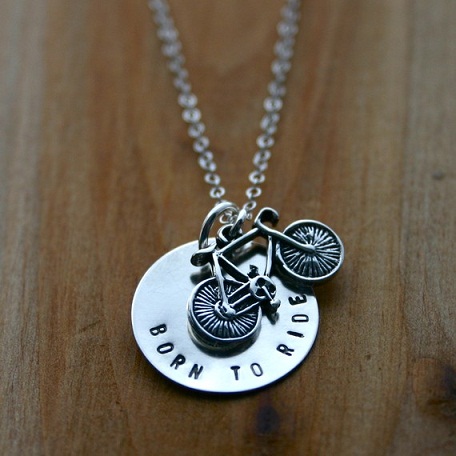 Price: $49.00 @ Etsy.com/shop/JustJaynes
I might not be one of those amazing bicyclist who ride inbike marathons, but I really love my bike **and feel like I was **"Born to Ride"! Jewelrycan be a great way to express who we are and what we enjoy in life. This beautiful **bike charm **is a way to let your passion shine while you're not riding and it's a way to make a statement without having to speak.
Do you love riding your bicycle as much as I do? What hobbies and activities are you passionate about?
More
---
Comments
Popular
Recent