So perhaps your best friend is getting married and you need some great ideas for bridal shower themes. Or, maybe you're looking for ideas for your big bridal shower day. Hey, it never hurts to put a bug in someone's ear, right? To get some fresh new ideas, I searched the web for the latest trends in bridal shower themes and love what I found! These ideas are different than your standard brunch or dinner out with friends. Create a memorable experience for a bride you care about, or let someone know of a theme you'd like to have for your bridal shower. Either way, there is a little something here for everyone. Pin these ideas to your Pinterest page even if you're not ready for a bridal shower just yet. You never know when these ideas may come in handy!
---
1

French Inspired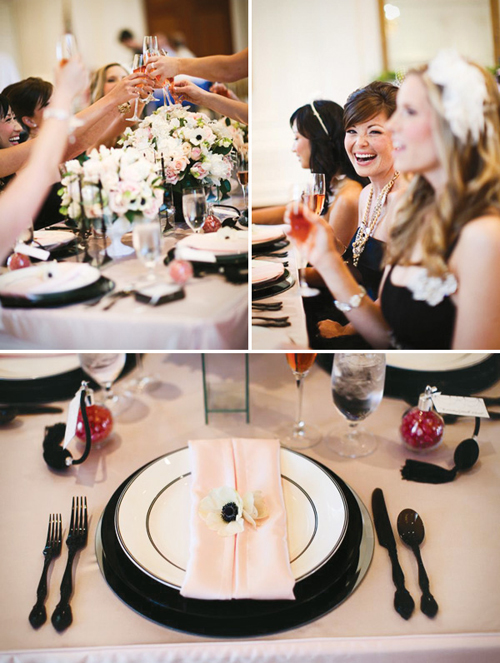 Spoil your friends and the bride to be with one of the best bridal shower themes that every girl attending will love! Ask your guests to adorn themselves with jewelry and hairpieces or have an on hand "Adorn Yourself" station with pre-made apparel, hairpieces and makeup styles that mimic those of classy French women, like Coco Chanel. Have some Chanel No. 5 perfume on hand for guests to spritz themselves with, and have plenty of classic little black dresses on hand, or ask guests to wear their favorite. Be sure to pick classic white pearls for jewelry and other dainty pieces of jewelry. Also add any special wardrobe ensembles like feathers, special jewels and anything sparkly. Include a classy white wine or pink wine with wine glasses or champagne glasses for the beverage station. As far as the eats go, be sure to include decadent chocolates, petite sandwiches, strawberry tartlets, macarons, mini servings of chocolate chip ice cream and small dainty mints on hand. If you want to serve cake, make sure it is classic pink or white and adorn with matching jewels and pearls to match everyone's attire. As a gift option for guests to take home, consider small samples of perfume, or engraved champagne glasses. Keep flower options dainty, such as carnations or classy peonies in baby pink and white to match.
2

Pretty Pancake Breakfast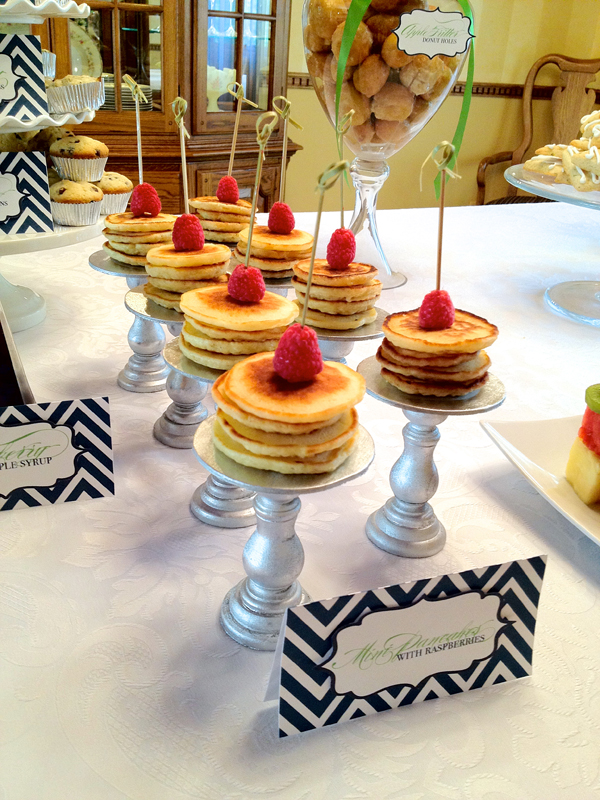 What girl out there doesn't love pancakes, right? How about serving the bride and her bridesmaids with classy, pretty little pancakes for a nice brunch and keeping all the dinnerware, table settings and beverages petite and feminine too? This classic, yet miniature breakfast option is a fun way to offer a comforting meal, while at the same time offering a little fancy class to an everyday breakfast favorite. Serve real maple syrup or local honey in original dispensers and serve mini pancakes stacked delicately onto pretty pink plates. Add fresh fruit and fresh squeezed orange juice for an authentic feel and use flowers from a local florist or garden. Serve beverages in old fashioned milk glasses or mason jars, or even use slender flower vases for a feminine appeal.
---
3

Breakfast at Tiffany's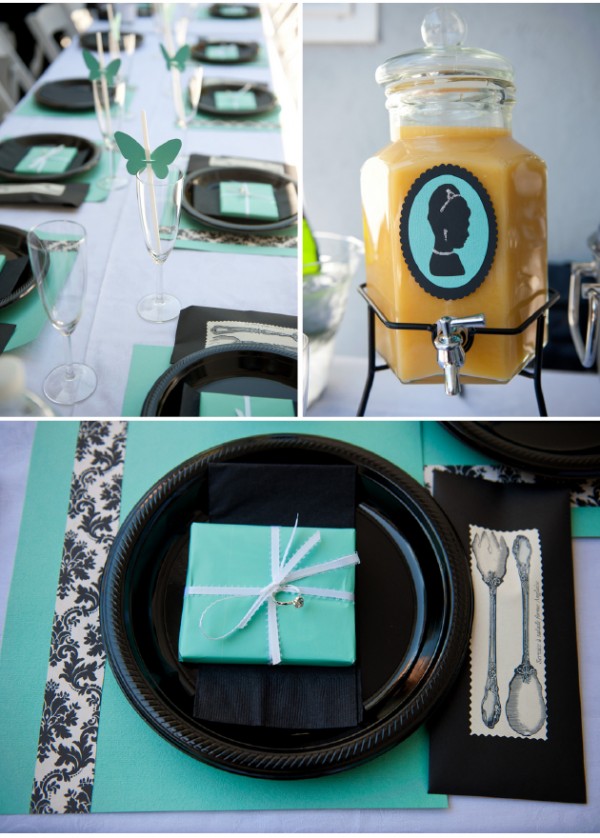 I have to admit, this idea stole my heart. What girl wouldn't love a Breakfast at Tiffany's theme to make her feel super special and sophisticated? This idea is fairly simple. Ask guests to dress in embellished outfits with pearls, fancy belts, accessories and hair ornaments. Or, if you have the finances, buy these items yourself or ask others to pitch in and buy everyone matching embellishments to dress in upon arrival. Adorn tables with runners that are classic white or lace and dress the tables with classic champagne glasses, and gold plates. Also add any pearls draped into glasses and ask guests to wear classy stones and pearls, even if it is costume jewelry. Use milk glass tumblers with flowers overflowing onto the table for a fancy, extravagant feel, and complete the table with any gold embellishments such as name plates or name cards. Add a classic Tiffany's blue mini gift to each table setting and a special larger box at the bride's seat. Fill the boxes with chocolates for guests and a special gift for the bride. Be sure to use nice furniture such as black chairs and black tables and even a Tiffany blue colored couch if you can swing it, for an overall Tiffany's color theme.
---
4

Retro Co-Ed Wedding Shower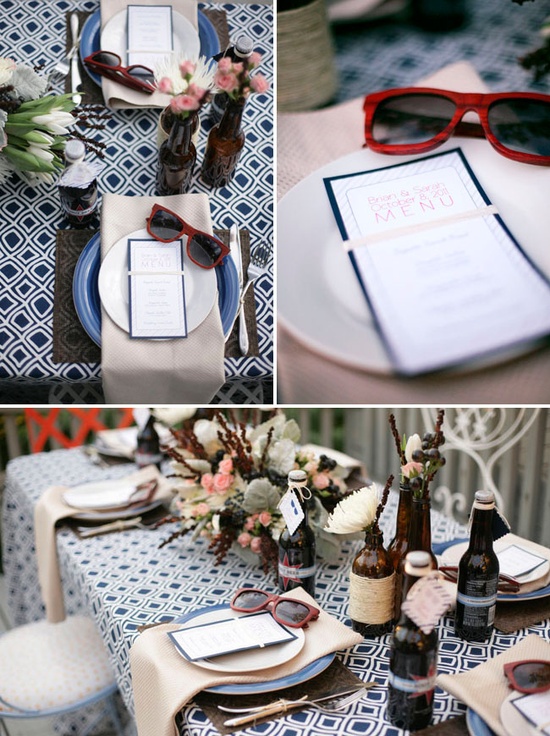 Maybe you don't want to leave the groom and his friends out of the mix when it comes to throwing a bridal shower. Who said you have to with this cute idea? For a relaxed gathering with friends of the entire wedding party, have a joint party! This is such a cute, classic idea that is easy to pull off. Have everyone dress in vintage retro '50s and '60s attire. Be sure to keep colors the classic navy blue, white, red and brown hues worn during this time. Keep things casual with jeans, denim skirts, khakis and plenty of polo shirts. Let guests wear their own shades or let the party favors be matching classic retro sunglasses. Adorn the dinner table with vintage silverware and plates that you can borrow from your parents or buy at a vintage store. Let the beverages be served in soda pop bottles or even reused beer bottles. Dress the party with an old retro TV and couches for a real time feel and serve casual food like burgers, homemade milkshakes and bubbly soda pop or carbonated water.
---
5

Mad Hatter Tea Party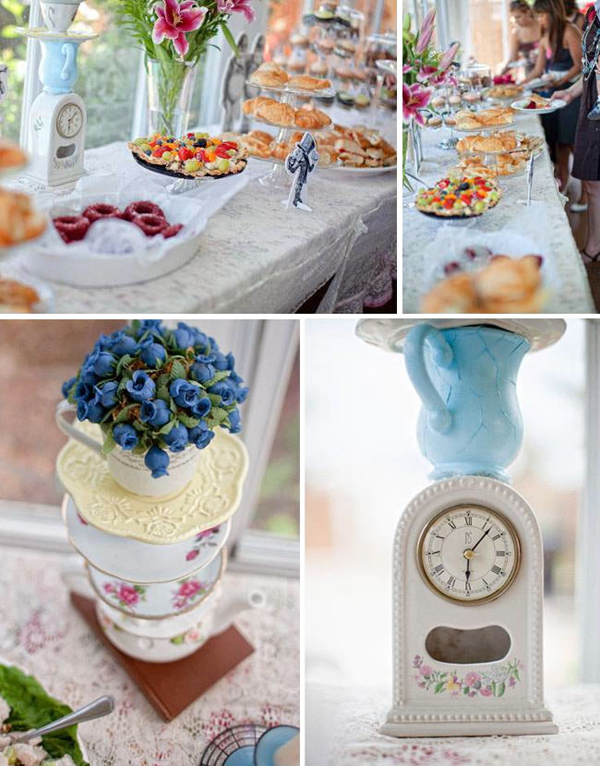 This idea is a way for the bride and her guests to indulge in their inner child and tea time diva at the same time. Ask guests to wear their favorite hats and their favorite style of dress appropriate for a tea party. Color the table with flowers, clocks and tea mugs for an authentic Alice and Wonderland style tea time party. Serve decadent and delicate pastries, fruits and lots of crudités. Design desserts such as cupcakes served in tea cups with name tags in each cupcake and even consider doing an all dessert tea party where guests can taste different treats. Be sure to serve a variety of classic tea blends and have a wealthy supply of vintage tea mugs to choose from. Set a large Mad Hatter's Tea style hat at the bride's seat and have an extra large chair adorned with velvet at her seat for extra appeal.
---
6

Slumber Party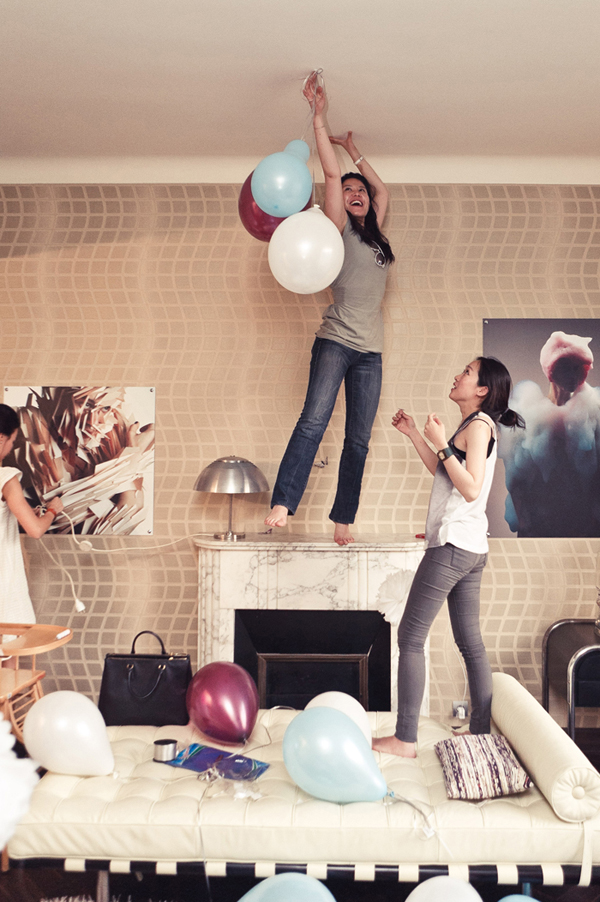 I was all about slumber parties as a young girl, so why not bring this classic girly favorite to a bridal shower theme? A slumber party theme is fun, simple and is a nice little twist on a typical morning time shower. Have guests show up around 5 p.m. and have them bring their favorite pajamas. Have the house of choice decked out in feather boas, sleeping bags, glasses of wine and champagne and of course, plenty of slumber party food favorites. Think pizza, chips and dip, sub sandwiches, popcorn, individual candies, or even consider making a casual dinner instead. Make cute signs and decorate mirrors and bathrooms with fun messages, and dress the bathrooms with nail polish, makeup and other dress up ideas. Be sure to decorate the living room and sofa with lots of décor and have a special pillow made for the bride. For party favors, have pillow cases with each guests' initials or names embroidered on them for a long lasting keepsake. Picture albums are also a great prop to have lying around of the bride and her friends. In the morning, have a classic breakfast with pancakes and waffles or even order out coffee and bagels before guests depart.
---
7

Fashion Swap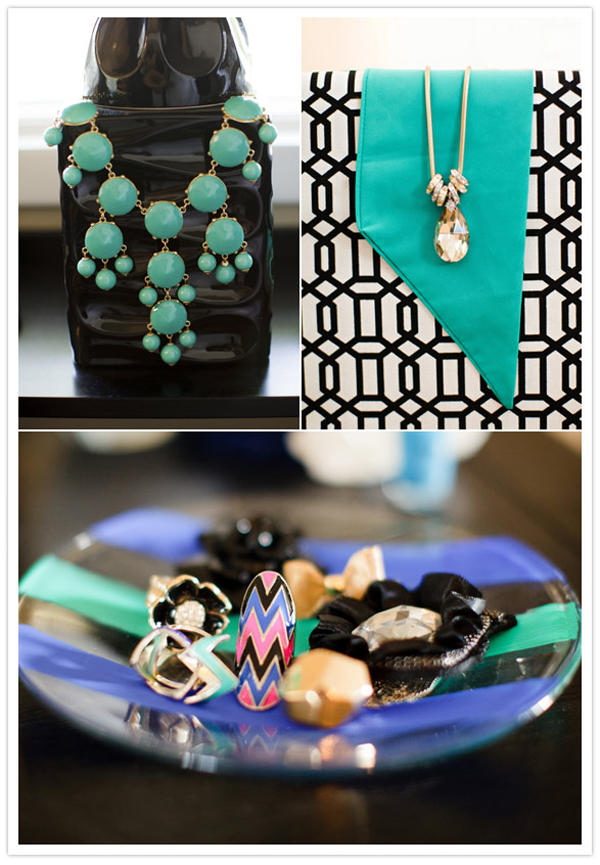 If you want to give the bride and guests a fun treat with plenty of take-home fashion, then try this amazing idea! Pick a night for the fashion swap party and ask guests to donate any items such as shoes, clothes, jewelry, scarves and handbags they no longer wear that are still in style, and any unused makeup, nail polishes, etc. lying around. Display the jewelry and clothes over tables, vases, platters, bookshelves, hang from the walls or ceilings and let the clothes be the décor, along with a color theme of choice. A classic turquoise and black is always a great sassy color scheme for a safe bet. Make sure to set a list of "Swap Rules," which establishes rules on swapping so no one gets in a fight over that crazy cute pair of ballet flats or the hot necklace everyone's dying to take home. Serve classic, petite dishes of sorbet or ice cream with macarons and champagne or sparkling water. Another great idea is to have the wedding cosmetic stylist on hand if you have one, so that guests can be tested for their best colors and hair styles. This lets guests experience a makeover and dress-up session, along with free loot to take home! Then, turn everyone loose!
Though I'm nowhere close to wedding bells, it is nice to get some ideas for that future day! These ideas are only a handful of great options out there. Have you ever been to a bridal shower with a cute them? Share it!
Sources: stylemepretty.com, designsponge.com, 100layercake.com, greenweddingshoes.com, 100layercake.com, 100layercake.com
---
Comments
Popular
Related
Recent