7 Ways to Celebrate Saint Patrick's Day ...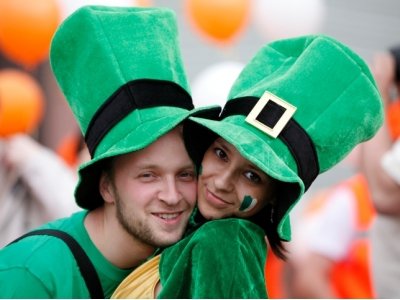 Ever since I was little, I have always loved March 17; consequently, I am always looking for ways to celebrate Saint Patrick's Day. Even though Saint Patrick is the patron saint of Ireland, Saint Patrick's Day is celebrated worldwide. What was once a religious feast day has become a day of celebration and parties. In particular, Saint Patrick's Day is a recognized day for celebrating Irish heritage. However, you don't have to be Irish to celebrate March 17. You just have to have the Irish spirit. If you are feeling Irish this year, you may want to try some of these ways to celebrate Saint Patrick's Day to keep you feeling festive.
One of the best ways to celebrate Saint Patrick's Day is to wear green. Do you remember when you were in elementary school and pinching was the punishment for not wearing green on Saint Patrick's Day? In those days I would deck myself out in green. Now, I am much more tasteful about my green attire. You can either go a little goofy or classy when you wear green on Saint Patrick's Day. Your choice will probably depend on what you are doing that day. Even if you don't want to wear green clothes, you can wear green jewelry. No matter how you choose to wear your green, you will certainly feel festive.
If you really want to feel Irish on Saint Patrick's Day, I suggest eating Irish food. Some traditional Irish meals include bangers and mash, boiled ham, shepherd's pie, and potato bread. My personal favorite Irish food is Irish soda bread. There is a bakery in my neighborhood that makes amazing Irish soda bread. There is a slight sweetness to the bread due to the little currants that are baked into the bread. It is just delicious, and I can't wait to get some for Saint Patrick's Day.
I didn't always listen to Irish music on Saint Patrick's Day. However, my ballet teachers began playing it for class every Saint Patrick's Day, and I really started to like it. My teachers tended to stick to Celtic and folk music, but there are also Irish pub songs. If you want to go the less traditional route, you could listen to U2, Van Morrison, Thin Lizzy, or The Cranberries. You don't even need to purchase any music on iTunes. Often, radio stations will play Irish Music as a way to celebrate Saint Patrick's Day.
If you happen to live near Savannah, Georgia, you can attend the second largest Saint Patrick's Day Parade in the US. If you don't live near Savannah, there is no need to worry. Just about every city has a Saint Patrick's Day parade. Even some small towns have a parade to celebrate the day. In addition to attending a parade to celebrate, you could also go to an event that has Irish dancing, which is always fun to watch. It always amazes me how fast their legs move.
For those of you who really feel like celebrating Saint Patrick's Day this year, I suggest throwing a party. You can play Irish music and have decorations with shamrocks. You can also serve traditional Irish food, or you can simply dye some of the food green. It is amazing what you can do with green food dye. I think cupcakes are one of the best foods to dye green. You can also serve green cocktails or green beer, the list is endless. To add some extra fun to your party you can do Irish trivia quizzes or play Irish themed charades. These are just a few ideas, but you can get as creative as you want.
One of the most common ways to celebrate Saint Patrick's Day is to go to a pub. You can get together with some friends, dress up and add green to your outfit, and have a good time. While you're out, you should only order Irish drinks. It is Saint Patrick's Day after all. Guinness beer and Bailey's Irish Cream are always good choices when you are going for Irish drinks.
7.

Make Your Own Traditions
There are many traditions that accompany Saint Patrick's Day, but you shouldn't let that stop you from making your own traditions. I think one of the reasons I love Saint Patrick's Day so much is because my mom made up some of new family traditions for us to follow. One of which was putting baby powder on the floor to look like tiny leprechaun foot prints. I would wake up in the morning and it would look like a leprechaun had come to visit me. This is probably my favorite made up tradition. When it comes to making up your own traditions just be creative. Perhaps you would like to have treasure hunt where you find a "pot of gold" at the end.
Saint Patrick's Day is a fun holiday for everyone to celebrate. You don't have to be Irish to get in the spirit. Just put on some green and join the festivities. What is your favorite way to celebrate Saint Patrick's Day?
{{#comments_count}} Show Commnents ({{comments_count}}) {{/comments_count}}