The Ultimate List of Summertime Tips You Haven't Heard Yet ...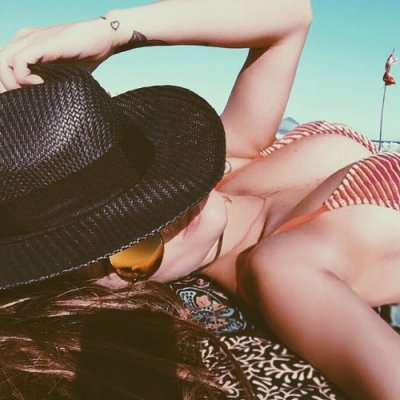 Summer is a time of relaxation and fun in the sun, but that doesn't mean it comes without its fair share of frustrations and annoyances. For me, that means sand all over the house when the kids get out of the sand box and sunscreen on the furniture. Whatever your summer woes might be, chances are there's a hack that can make it better. Here are the best ones I could find and I think they will make your summer so much better.
1.

Turn an Inflatable Kiddie Pool into a Huge Cooler
Are you hosting a big backyard party this summer? Forget having to drink warm beer or soda. Instead, fill a fun inflatable pool with ice and load it up with all the beverages you need to make your party a success. The extra space means cold drinks for everyone and the pool keeps them corralled so they are easy to get to when you want one. Genius!
2.

Make Ice Cubes out of Your Favorite Drinks
It's such a bummer when your favorite summertime drinks gets all watered down by ice cubes because it's hot outside. Freeze your favorite beverage into cubes and that problem is easily solved. Whether it's iced tea, lemonade, wine or soda, frozen cubes will still melt, but they won't water down your drink.
3.

Cut Ice Cream into Slices with a Sharp Knife
No more trying to scoop rock hard ice cream or having a melted mess before anyone gets to dig in. Simply take a sharp knife and cut the package in half. Then pull each half off the ice cream and use the knife to slice the ice cream into individual servings. Use a spatula to transfer the ice cream to plates and serve.
4.

Use a Plastic Bag Wrapped in Duct Tape to Repel Wasps
Nothing kills time out in the yard like a bunch of buzzing creepy crawlies. If you're like me, you want to get rid of the bugs without having to spray poison where the kids and pets play. Experts say that you can take a plastic grocery bag, wad it up, and wrap it with duct tape to repel wasps. Simply place the bundle in your yard and see what happens. It's worth a try!
5.

Use a Wet Towel and Your Iron to Remove Stains from Clothes and Furniture
It's not summertime unless you give your kids frozen ice pops, right? Kids aren't well known for eating neatly, and chances are you'll wind up with red or purple smeared on clothes or furniture. To get rid of it, lay a wet towel that has a bit of dish soap on it over the stain. Run your hot iron over the spot a few times and the towel should soak up the worst of the stain.
6.

Spread Deodorant on Your Feet to Prevent a Stinky Situation when You Take Your Shoes off
Your armpits aren't the only place that sweat when it's hot outside. If you have sweaty feet, you could end up with a smelly issue when you take the shoes off. To counteract this, use deodorant on your feet too. Simply swipe it anywhere that will be in a shoe. As a bonus, this can also prevent chafing and rubbing when you wear shoes without socks.
7.

Buy an Outdoor Water Cooler so You Don't Have to Come inside All the Time
I recently bought a gallon jug to fill with water and keep on the patio so my wet, dirty kids can get a drink without having to come in the house. This is an inexpensive way to make sure everyone stays hydrated without having to spend unneeded time cleaning up indoors. I think this is my favorite summer hack of all time!
What other summertime hacks can you share? Will you be trying any of these this year?
{{#comments_count}} Show Commnents ({{comments_count}}) {{/comments_count}}