7 Stupendous Ideas for a Surprise Party ...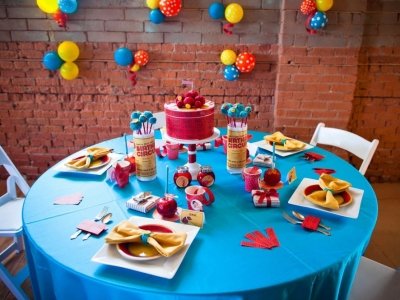 Now that you've committed to being the one in charge of the next snazzy celebration, the trick is to come up with ideas for a surprise party. Your friends and loved ones are savvy creatures, and this will take some planning on your part. But rest assured, once you choose from this list of ideas for a surprise party, when the shock is over there will be nothing but awe as the party really starts.
1.

Breakfast for Dinner Party
Who doesn't love a fluffy omelet, a stack of cakes, sumptuous crepes, or some crispy hash browns? Better yet, have the attendees show up in their (G-rated) PJs, and have a pair with a bow waiting for the suprisee to change into! It will make for some great photo ops too. Many breakfast food items can also be made in advance, such as fruit-stuffed French toast or a breakfast casserole. Set them out in warming trays to make it quite possibly the easiest of the ideas for a surprise party!
2.

'This is Your Life' Party
Whether you've known the guest of honor for a month or a century, it is a huge compliment when you sew together the threads which make up the fabric of their life. Have some poster boards with photos lumped into age categories to start. Beforehand, ask certain key players—spouses, siblings, friends, perhaps even bosses if the chemistry is good—to videotape a snippet story for playing at the party. Make sure they are ones the honoree wouldn't mind having shared (don't have the cubicle mate talk about the time they accidentally set the break room on fire, for example, or broke into the boss' desk). This gift of a DVD compilation of snippets is as easy as having one of your techie friends record the individual recollections, download them onto a computer, and burn them onto a DVD (trust me, it's easier than it sounds with the newer computer programs).
3.

Rent a Theatre and Play Home Movies
Many towns have either low-cost $1 movie theatres, or even a local library with stadium seating in a conference room. Are there some home movies which could be converted to DVD? Is there a movie your family or friends tend to quote on a regular basis? How fun would it be to invite the birthday boy/anniversary couple to a theatre to celebrate the special day with a movie and dinner, and when they arrive, they realize it's a party in their honor?
4.

Chocolate Overload Party
For the chocoholics of your group (ok, this may be a bit self-serving—literally!), how about a surprise party where the appetizer, main course, AND dessert are all chocolate?!? This can take on a different meaning than you may expect. Think cocoa-brown sugar covered bacon or cocoa-chili coated scallop appetizers, chicken mole for dinner, and the obligatory death by chocolate bonanza for dessert. Scrumptious!
One of the best ways to bring together a group is to put them on teams with a common goal—like beating the rest of your friends at a game of euchre, poker, backgammon, or Pictionary! Have a roomful of tables set up to accommodate the number of people you think will attend. Who cares if there are uneven teams? There will be cake after all, and that's all that matters. Besides the guest of honor…of course…
How about inviting the gang to a favorite restaurant to celebrate over dinner, only to be greeted by The Chef and his staff? If the restaurant has a night where it's not usually open, this might be even easier. Another, more budget-friendly option is to have the sous chef of the restaurant come to your home for a more informal cooking class. She will bring the pots, pans, and ingredients necessary if asked, and you just bring the fun and adventurous friends!
7.

Favorite Holiday Party
Is the guest of honor crazy about Cinco de Mayo? Have a Mexican fiesta surprise party. A St. Patty's fan? Serve up the corned beef and green beer. It is their party, after all. And if you put up a Christmas tree or menorah in July, that just makes it all the more special!
There are so many great ideas for a surprise party. Truly, the most important ingredients are those that you invite. Have fun and relax, knowing that the real gift for the honoree is your presence, not the presents! What was the most memorable surprise party you were a part of, and why?
{{#comments_count}} Show Commnents ({{comments_count}}) {{/comments_count}}