A Quality Vacuum Cleaner - Aspiron Canister Lightweight Vacuum Cleaner Review ...
By Associate
A quality vacuum cleaner is an essential tool in everyone's house cleaning arsenal. From carpeted areas to tile and hard wood floors, there are no surfaces a good vacuum cleaner can not handle. Not to mention the dust in hard to reach areas, like sofas, arm chairs and window dressings.
Luckily, today one can find an amazing vacuum cleaner without breaking the bank. Aspiron Canister Lightweight Bagless Vacuum is just that - a perfect vacuum cleaner that is light, easy to maneuver and simply a pleasure to use in your daily life. But let's take a closer look and consider its pros one at a time.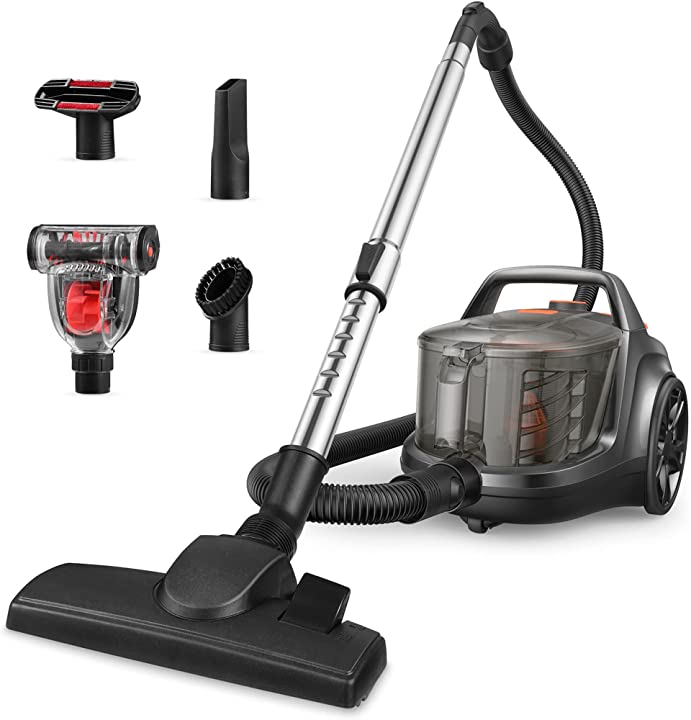 ---
1

Lightweight

For us, women, it's especially important that the vacuum cleaner is light and easy to maneuver. Heavier, bulkier pieces are simply impossible to manage in daily maintenance. Aspiron Canister Lightweight Bagless Vacuum Cleaner weighs only 14.9 lbs and it's just a pleasure to work with. Perfect for houses with less closet space, it's easy to store thanks to its telescopic wand.



---
2

No Need to Purchase Vacuum Bags

A good vacuum cleaner is a great tool to have, especially when you do not need to constantly re-purchase vacuum bags to keep it functioning. In our opinion, it's one of the most important features - you can vacuum, take the dust out and be ready for your next cleaning session just like that, without depending on the stock of vacuum bags in your closet.



3

Large Dust Cup

For families with busy households as well as for pet owners, it's extremely important that their vacuum cleaner can handle anything. With the large dust cup of Aspiron bagless vacuum cleaner, you are ready for any mess around the house. With the standard size being 2.5 qt, Aspiron sets a new bar with its 3.7 qt dust cup, making it an ultimate vacuum cleaner for families with young children and pets.



---
4

Powerful Cleaning

With 455 AW suction, this vacuum cleaner is sure to leave your carpets and floors absolutely pristine. Whether it is dust, sand, pets' hair - this lightweight canister vacuum cleaner does the job. Working on all surfaces of your house, it's 5 adjustments will make sure everything, including furniture and curtains, will be clean.



---
5

Advanced Filtration

Aspiron's advanced filtration system traps fine dust and particles inside, making it an ideal choice for all who suffer from allergies or who are sensitive to dust and secondary pollution. It's an ideal bagless vacuum cleaner for homes with young children and people with lower immune systems.




Once you try vacuuming with Aspiron Canister Vacuum Cleaner, there will be no going back. Available at Amazon at the ideal price point of $219.99, it's a must have for every household. With free and fast delivery for Prime members, you can have this wonderful household helper at your disposal within a couple of days!




Protection plans are available for 2 and 3 years, which surely proves the high quality of this wonderful household item. With variable speed control, automatic cord rewind and beautiful design, there is no other vacuum cleaner on the market like Aspiron Canister Vacuum Cleaner!
---
Popular
Related
Recent