There's nothing like new summer bed linen sets to brighten up your space for the summer months, and there are loads of pretty styles around this season. From butterflies and birds to classic, pretty florals and quirky prints, whatever your taste in bed linen, you are sure to find the perfect set to suit you. You can match your bed linen to your curtains, cushions and other accessories or mix and match to create a quirky look, the choice is yours! Here are my top 7 summer bed linen sets that I hope you'll love as much as I do!
Table of contents:
1

Tesco Basics Chevron Set in Spearmint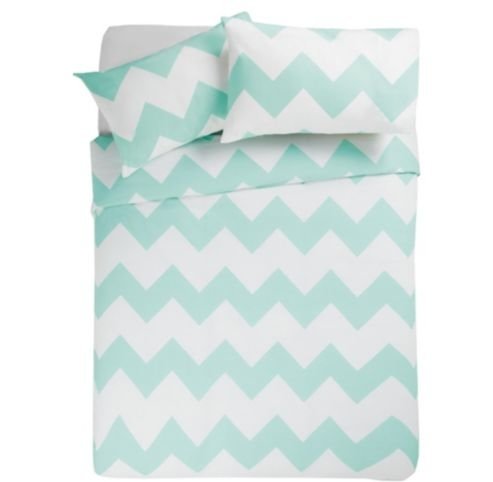 This gorgeous, fresh, white and spearmint set is one of my favorite summer bed linen sets - it's so crisp and summery! I love the colors and the easy-care fabric means you don't even need to iron it. This duvet set is perfect for those on a budget looking to create a fresh summer look without spending too much money!
2

Tesco Ornate Birdcage Duvet Set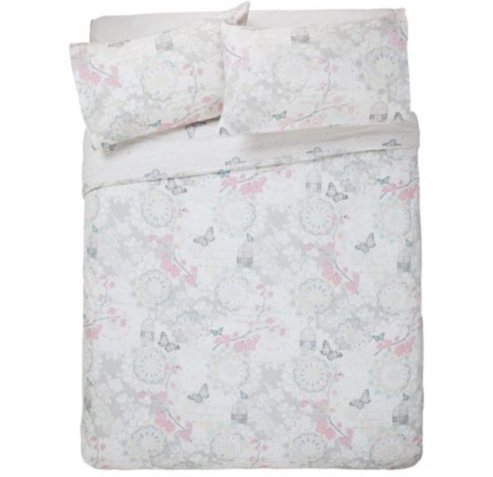 Birds and butterflies are in fashion when it comes to interiors this season and this pretty birdcage duvet set, available on the Tesco website, is perfect for anyone who loves birds! The muted grey coloring is great for minimalist, neutral rooms - I love it!
3

Marks and Spencer Delicate Flower Duvet Set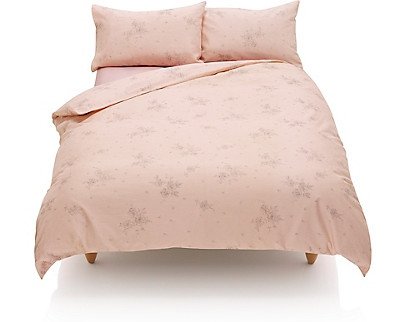 This pale pink duvet set is oh-so-pretty and perfect for spring/summer. If you're looking to add a feminine touch to your room, the soft pink and floral design is ideal. I really love this set!
4

Marks and Spencer Summer Floral Duvet Set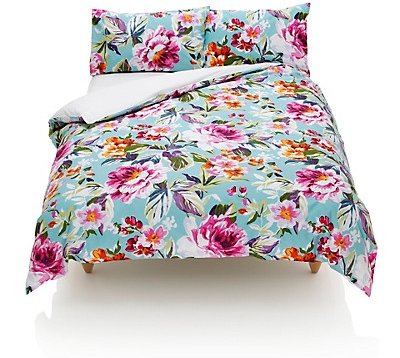 This bright floral duvet set is really pretty and ideal for summer - the turquoise background and purple, pink and orange flowers add a fun feel to any bedroom. If you love bright colors, you're going to love this bed cover, guaranteed!
5

Emma Bridgewater Birds Bed Linen Set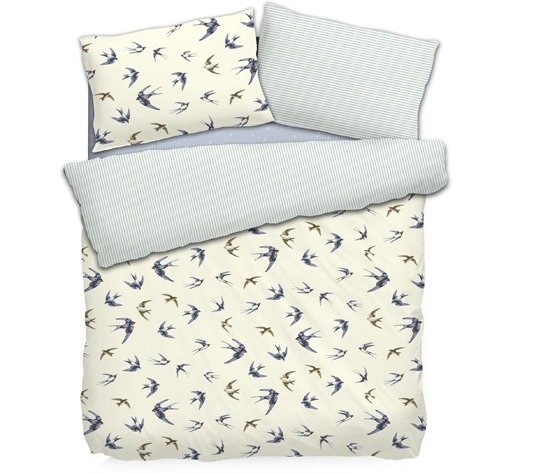 I love this reversible duvet set from Emma Bridgewater, which features a cool swallow print in blue and cream and a striped cover to the other side. It's the perfect 2-in-1 bed cover for your bedroom this summer and it's ideal for this season's print trend.
6

Vandyck Summer Paradise Bed Linen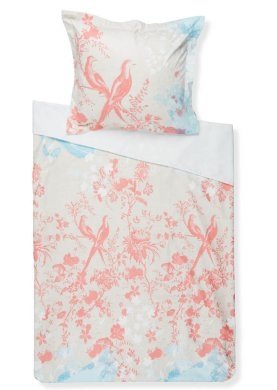 This duvet set is simply gorgeous - a pale blue cover with coral birds and foliage. I love it! This would look great in a neutral, minimalist bedroom to add just a pop of color and is perfect for spring/summer. This is one duvet cover to fall in love with!
7

Marcel Bedding Set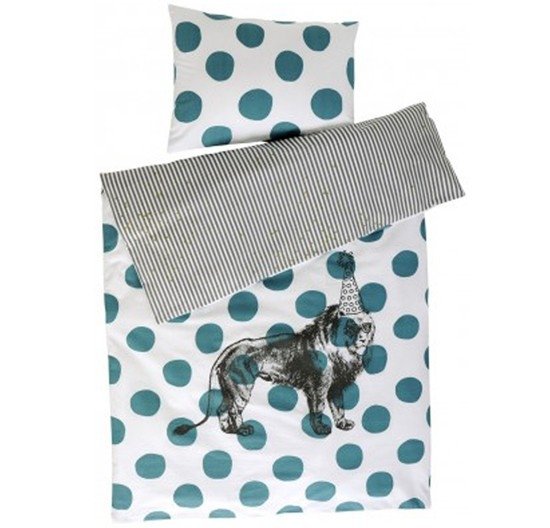 For something a little different, this bed set from Lily Lime is just the ticket! Featuring a reversible print - striped one side and turquoise spots on the other - this duvet cover has a fun print of a lion in a party hat on the spotted side. Sure, it's not for everyone, but if your taste is on the quirky side, you'll love it; it will definitely add an unusual touch to your room.
What's your style when it comes to bed linen - are you a patterned or plain girl? Personally, I really love pretty patterns, but I know they're not for everyone! With so many great styles around this spring and summer, it should be easy to find bed linen that matches your own personal style, whether that's hearts and flowers, butterflies, birds or just plain, classic Egyptian Cotton bed linen.
Please rate this article