How to Create an Unforgettable Outdoor Party and Be the Hostess with the Mostess ...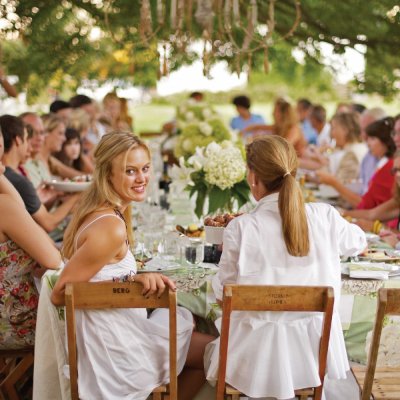 When the weather is playing ball and you have a beautiful day or evening to spare, there really is nothing better than entertaining your family and friends outdoors. Hosting an outdoor party, though immensely fun for the guests, can also sometimes be rather stressful to organize. In order to make the process as easy and rewarding as possible, here are the nine top tips for outdoor entertaining.
Your party doesn't have to be extravagant to be impressive. If you are pushed for space then scatter a few comfortable looking blankets and throw pillows around accompanied by some cute fairy lights and invite your guests to be classy but casual. Make the most of your space with drinks and food in one area, leaving the rest for socializing.
Food bars are cool and convenient, especially something like a bruschetta bar. They serve two purposes: providing an interesting topic of discussion and place for guests to socialize, as well as ensuring that they will have some food at the party that they like because they will have essentially chosen and prepared it themselves.
This is just plain common sense. Do everything possible ahead of time that can be done in advance. This will save you endless stress as the party nears and will give you more time both to relax and to tackle any unpredictable situations that may arise from an outdoor party.
Going for a selection of theme food is good for two reasons: the first being that it adds another layer of fun to the party and the second being that it helps you immensely when party shopping because it limits your options and prevents you from buying extra food that you don't need. Spanish tapas and sangria are a popular choice for outdoor parties.
5.

You Must Stay outside!
If you have taken the plunge and decided to host an outdoor party, you must make every effort not to subconsciously migrate indoors after a few hours. You can do this by keeping the majority of things outside, such as food and drinks, and add some fairy lights so that the party can carry on outdoors even after the sun has gone down.
6.

Finger Foods Are the Way to Go
Not only do finger foods like look pretty on an arranged platter, but they are also convenient for eating and socializing. They will save you a lot of clean up in the long run as well. Having your guests eat with their hands and with a napkin if they need one is so much less stressful than having to think about plates and cutlery.
7.

Incorporate the Tidy up into the Party
Rather than giving your guests no option but to scatter their trash around your garden, invest in a handful of sturdy and noticeable trashcans or wastebaskets that you can strategically place around the party area. If they clean as they go, there will be much less for you to do in the morning.
Co-hosting an outdoor party with a neighbor or a colleague is a great way to have and enjoy a fun event without bearing all the responsibility. Having an extra pair of hands to rely on will definitely make the entire situation less daunting and you will be able to bounce party ideas off one another.
9.

Master Some Classic Party Recipes for Every Occasion
If you have decided to cater yourself rather than buy in, it is essential to have a few classic party recipes up your sleeve. Crowd favorites will always go down well and you will feel a great sense of achievement and satisfaction knowing that you have provided pleasure to all of your family and friends.
Are you planning on hosting an outdoors party this summer? Will you go for a BBQ party or something more elegant?
{{#comments_count}} Show Commnents ({{comments_count}}) {{/comments_count}}