Summer time is the best time to fire up the grill, mix up your favorite recipes, and grab a cold beer from the fridge. It's also a great time to gather together with friends and family to enjoy the beautiful weather. Whether you favor chicken over burgers or eggplant over spareribs, there is sure to be a finger-licking recipe you can enjoy on the grill...
---
6

Grilled Kebabs...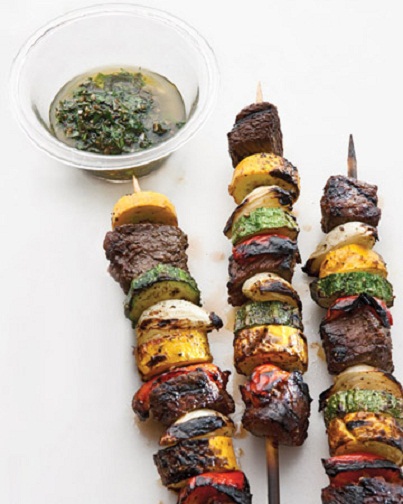 Photo: MarthaStewart
Kebabs **have to be one of my favorite BBQ memories from when I was a child. For some reason when you're little you get so excited when your parents want to have a **cook-out **and make fun things like kebabs and corn on the cob! It also makes eating vegetablesa little more thrilling then just putting them on a plate next to the other foods that look so tasty. This recipe from Martha Stewartincludes **beef sirloin tips, summer squash, zucchini, red bell pepper, and onion. Check out the link for tips on how to **marinate **them in soy sauce and balsamic vinegar.
---
5

Cheddar-Stuffed Burger...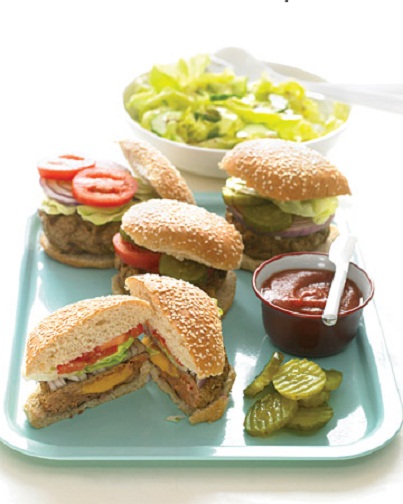 Photo: MarthaStewart
Burgers and hot dogs are one of the best foods to eat from the grillin the summer. They are easy to prepare and easy to eat while outside on the deck, boardwalk, park, or where ever you may be. I love the sound of this burger recipe **from Marthathat is **stuffed **with **cheddar cheese! As you are making your beef or turkey burger just insert a piece of cheese in the center of the ball then flatten it into 1 inch thick burger patties. For further instructions continue to the link.
4

Grilled Eggplant...
Photo: MarthaStewart
There are so many people out there who really want to experience **tasty grilled food **but they don't eat beef, chicken, or even shrimp. I love fried eggplant and think it's a great alternativeto meat, so I'm sure this recipe for **grilled eggplant **in **pomegranate dressing **from Martha Stewartis a great way to experience that grilled taste. I wouldn't mind trying this...anyone up for a bbq!
Continue Reading for more Recipes...
---
3

Shrimp on the Bar-B...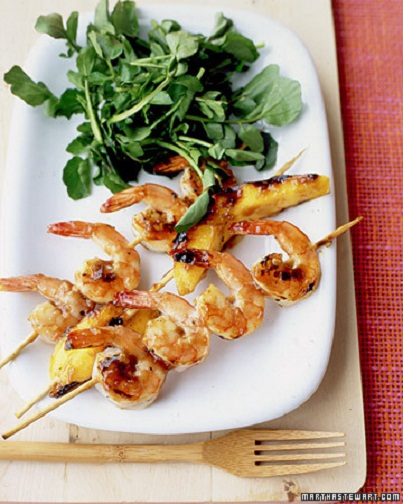 Photo: MarthaStewart
We just got back from our favorite beachwhere we had finger-licking good soft shelled crab sandwiches and tonight I was hankering for more seafood. When I think of summertime seafood I think of shrimp, crab, clams, and scallops. We don't have a grill at home so we went to our local supermarket to get some fully cooked cold shrimp and cocktail sauce...yum! If we did have a grill **I would love to make this **rum-glazed recipe **from Martha, I wonder if it would taste just as good on cold **shrimp?
---
2

Grilled Buttermilk Chicken...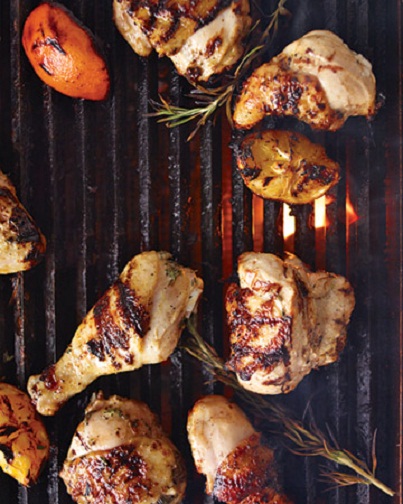 Photo: MarthaStewart
Grilling chicken **can be one of the healthiestways to prepare it, so instead of going fried consider putting it on the grill with this finger-licking **recipe **I hope to try from Martha Stewart. For at least 4 hours or overnight you soak your chicken in a marinade of **buttermilk, garlic, herbs, salt, and pepper. I think I'll be calling up some friends or family members to borrow their grill for this one!
---
1

BBQ Spareribs...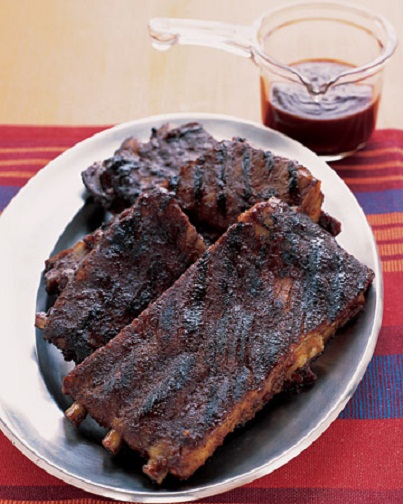 Photo: MarthaStewart
When you're talking about BBQ **you can't forget about the **ribs! There are even BBQ contestall over the states for best ribs and this easy **spareribs recipe **from Marthacould be a contender! With ingredients like paprika, chili powder, cayenne pepper, and Worcestershire sauce this may be a **finger-licking recipe **even my husband would love.
What's your favorite recipe for the grill?
---
Comments
Popular
Related
Recent