If you're a runner, you know you need the right gear to be successful — trainers, running bra, water bottle… sunglasses? That's right… you also need the right sunglasses for running, sunglasses that won't slip off your face, but still keep your eyes protected and your sartorial sense satisfied. If you're on the hunt for new sunglasses for running, keep reading. Here are 7 fabulous sunglasses for running, all of them just for us girls.
Table of contents:
1

Maui Jim Punchbowl Women's Polarized Sunglasses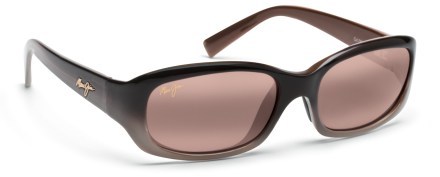 Price: $199.00 at rei.com
Aside from the fact that these running sunglasses are very on-trend, I love them because the lenses are coated to prevent body oil and sweat from sticking to them, clouding your vision. It sounds gross, but any runner can tell you — that's quite a feature.
2

Smith Parallel Women's Sunglasses

Price: $129.00 at rei.com
Stand out in the field of runners wearing black or brown running sunglasses with this sleek ice blue pair… or not. Each pair comes with red lenses (for low light) and clear lenses (for night-time). All three sets of lenses offer 100% UV protection, and reduced glare.
3

SunCloud Wisp Polarized Women's Sunglasses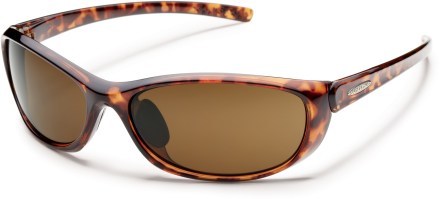 Price: $49.95 at rei.com
Lightweight, sleek, streamlined, and fashionable, these sunglasses for running offer so much for very little cash. I love the tortoiseshell frames, and their comfortable, no-slip fit. I also like that they're built to last, so you're not shelling out $50 for new running sunglasses every 6 months.
4

Smith Shoreline Women's Polarized Sunglasses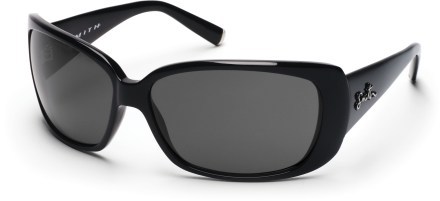 Price: $139.00 at rei.com
If you tend to run often in the hot sun, give your eyes a little extra protection from harmful 100% UVA, UVB and UVC rays… and look good doing it. Choose from black frames with grey lenses, or tortoiseshell frames with brown lenses, either way, you'll enjoy your run more with 99% glare reduction at a very reasonable price.
5

Oakley Urgency Women's Sunglasses

Price: $140.00 at rei.com
Like all other Oakley sunglasses, these are designed to fit perfectly and comfortable along three points. I also like these because they're a sleek black, unlike other women's running sunglasses, and also because they offer 100% UV protection for your precious peepers.
6

Oakley Miss Conduct Squared Women's Sunglasses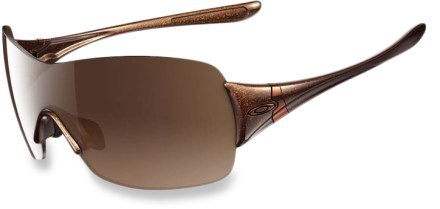 Price: $140.00 at rei.com
These brown-sugar colored running sunglasses offer 100% UV protection, and though they're frameless, they're still very comfortable, with extra-cushy nose pads. They're also shatter-proof and scratch-resistant, a must-have for clumsy runners, like me.
7

Pepper's Sophia Women's Polarized Sunglasses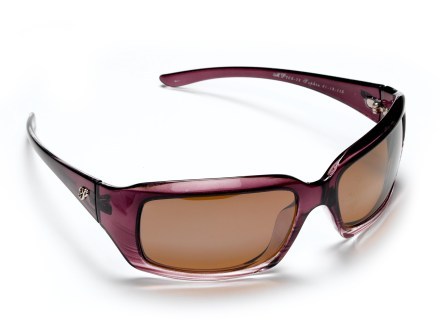 Price: $39.95 at rei.com
As the product description asserts, big is in! And big sunglasses for running provide excellent eye protection to go along with their spot-on trend awareness. They're made of flexible Grilamid™ nylon, and the polarized lenses reduce 99% of visible glare from water, snow, sand and pavement. They're also very reasonably priced!
.
With so many fabulous sunglasses for running, the only real question is, which pair to pick? I love the Maui Jim sunglasses… they're so chic! Which pair do you like best, and why? Or is there another pair of sunglasses for running you like better? Do tell!
Top Image Source: trening.no
Please rate this article