17 Addictive Podcasts 📡 to Listen to Today 👂🏼 ...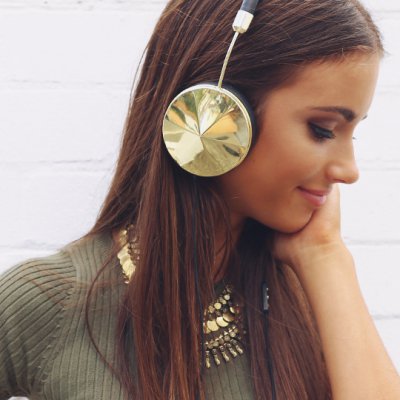 If you're looking for something new to listen to on your daily commute or to help kill time on the treadmill, why not try a podcast? There are loads of them ready to go at a moment's notice, to distract, entertain, and maybe even make you ponder. Which ones should you try first? I have a list!
Listen at: serialpodcast.org
The first season of Serial tells the story of Adnan Syed, in prison for the 1999 murder of his ex-girlfriend. Each episode explores the trial and more, and you'll be left with lots of questions after each one, and by the end, you'll want your own interview with Jay.
Listen at: serialpodcast.org
You may think you know the story of what really happened with (and to) Bowe Bergdahl. I thought I did, too. But we were wrong, in so many ways. This podcast, as of publishing, is still telling the story, and it's still unfolding.
Listen at: thisamericanlife.org
This is the show (and podcast) that spun off Serial, and it's been on the air for more than two decades. Host Ira Glass and his producers tell stories of everyday Americans in a way that has often made me sit in my driveway, glued to my radio, long after I've arrived at my destination. Start with the Hamlet in prison episode (Act V) and then maybe the Ghost of Bobby Dunbar, and then try Babysitting, especially act 3. You'll laugh, you'll cry... often in the same episode.
Listen at: wbur.org
"Wild" author Cheryl Strayed hosts this advice column in podcast format. The topics she covers are varied and fascinating.
Listen at: radiolab.org
Hosts Jad Abumrad and Robert Krulwich make science appealing in a way I never thought it could be. They're masterful storytellers, truly.
Listen at: glamour.com
This fashion podcast by Glamour Magazine is a lot more interesting than you'd think. Start with the "When I got Divorced" episode and go on from there. Each episode is short, but they're all worth a listen.
Listen at: npr.org
Terry Gross interviews some of the most fascinating people! Sometimes, especially lately, her questions seem a little odd, but she always asks some doozies.
Listen at: npr.org
I've had a hard time listening since Tom, one of the brothers who hosted the show, passed away, but it's still such a funny radio show, and at the end, I never felt like I wasted a perfectly good hour. Not once.
Listen at: npr.org
NPR's science correspondent Shankar Vedantam hosts this weekly podcast which looks at how our brains make hidden connections that shape our daily lives. Every episode I've listened to is absolutely riveting.
Listen at: npr.org
If you love TED talks, you'll want to listen to the podcast, which explores more of the ideas that have already caught your attention.
Listen at: npr.org
This mid-day news program covers, in depth, some of the days issues, providing a little more information on the stories you care about most.
Listen at: wtfpod.com
Hosted by stand-up comedian Marc Maron, this podcast is funny, smart, and at times, painful - and always interesting, always honest.
Listen at: gimletmedia.com
It was bound to happen sooner or later: an entire show and podcast about the internet. It's fantastic.
14.

Pop Culture Happy Hour
Listen at: npr.org
Another NPR-related podcast, this one covers (you guessed it) pop culture and its impact. I loved the Oscars preview, and the episode that paid tribute to Alan Rickman.
Listen at: thememorypalace.us
This is such a wonderful show! It's all about history, told in meandering, powerful vignettes.
Listen at: songexploder.net
Each short-ish episode breaks apart a song and tells you all about it. My fave episode is about MGMT's "Time to Pretend." So interesting!
Listen at: prx.org
Let me be blunt: you may think you already know everything about what it means to be a girl, but you don't. Neither do I. Neither does this single mom, raising a 6-year-old trans girl. But together, we'll find out.
{{#comments_count}} Show Commnents ({{comments_count}}) {{/comments_count}}