It's never too early to buy the best beach towels. You want to be prepared for the warm weather, don't you? Your bathing suit isn't the only way to show off your style. Sprawling out on one of these best beach towels is a great way to express yourself.
Table of contents:
1

Fresco Towels Americana Beach Towel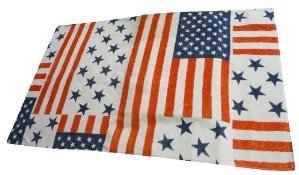 If you're an American, or just a big fan of the USA, you can see why this is one of the best beach towels out there. There's nothing wrong with being patriotic. It's great to let the world know where you come fro, so why not show your pride with the American flag? Red, white, and blue are the colors for you.
Price: $150 at revolveclothing.com
2

Conde Nast Cruise Ship Beach Towel

This towel will grab everyone's attention. There are so many little details on it that you'll always find something new to admire. It's just like the cities and towns you visit on your vacations. As many times as you go there, they'll always be something new to discover. The fun never ends!

Price: $30 at bedbathandbeyond.com
3

Fresco Towels Rainbow Stripe Beach Towel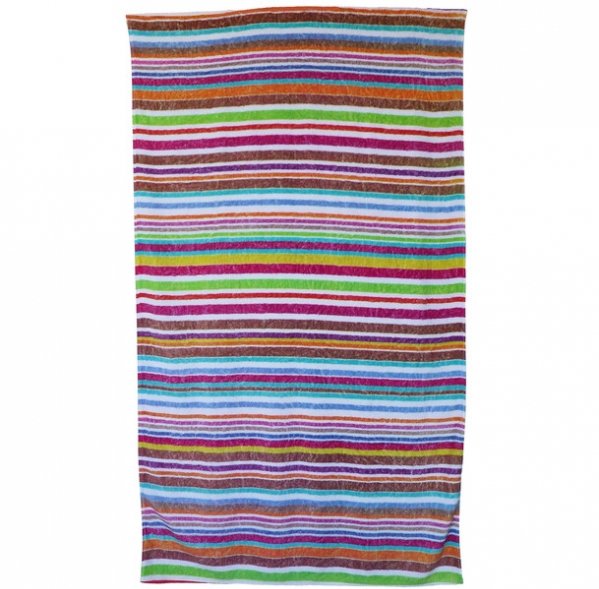 You don't have to settle for a solid colored towel. If you can't decide what shade you like best, get them all. There are plenty of towels with rainbow stripes. This one in particular contains every color you could ever dream of. What more could you ask for?
Price: $115 at fab.com
4

West Elm Spa Stripe Beach Towel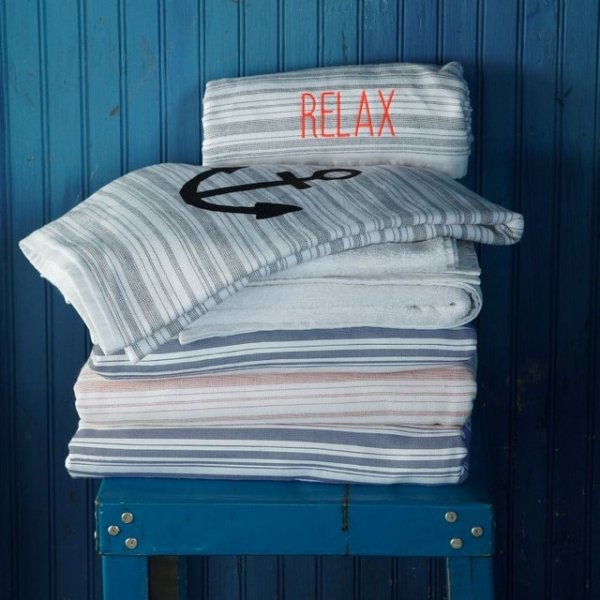 This towel is plain and simple. It comes in a soft, relaxing color, but the anchor printed on the center gives a decorative touch. Who could resist something so adorable? It has a very beachy feel, so it's perfect for days by the water. Just don't get it too sandy.
Price: $42 at houzz.com
5

Lacoste Anchor Beach Towel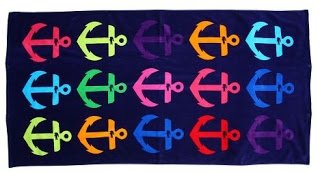 Nowadays, anchors are a popular symbol. They're a common design for tattoos that represent strength. If you're not commited enough to get some ink, just get a towel. This one has multiple anchors in cute colors. It's not as permanent as a tattoo, but it's just as adorable.
Price: $20 at zappos.com
6

Natori Ombre Jacquard Beach Towel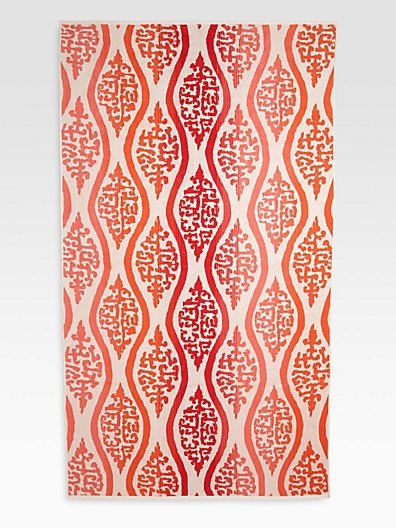 Do you want something bold to match your personality? This towel is vibrant, so that you can easily spot it on the beach. The bright color mixed with the unique pattern makes for an irresistible towel. Everyone will ask you where you bought it.
Price: $35 at saksfifthavenue.com
7

Yigal Azrouël Color Burst Beach Towel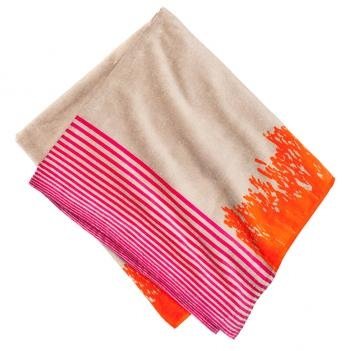 This is a fiery little towel. Like the title says, it holds bursts of color. Stripes line the top and bottom, while streaks of orange line the sides. However, the middle is a dull, sandy color in order to balance the colors out. It's perfect for any day at the beach.
Price: $25 at edition01.com
8

Nine Space for J.Crew Beach Towel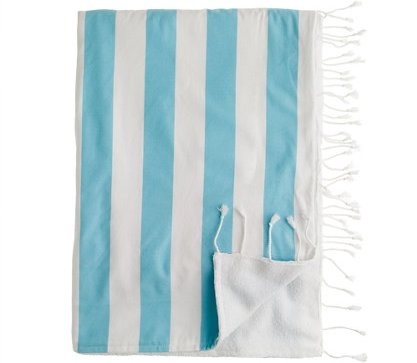 If you haven't fallen in love with any of these beach towels yet, get ready to. Just looking at this striped pattern will relax you. It's the color of the ocean and the sky, which makes it perfect for a day by the water. Whether you're young or old, you can appreciate the soft, cozy material. It's the definition of lovely.
Price: $76 at jcrew.com
9

Jonathan Adler Brown and Pink Waves Towel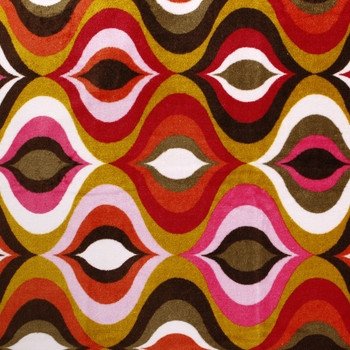 If you want something with flair, try out this towel. It has a unique design that isn't for everyone. Only the bold can carry this baby around. If you want to be the talk of the beach, a quirky towel is the way to do so. So why not buy one?
Price: $147 at us.amara.com
10

Lulu DK for Matouk "Abstractions" Beach Towel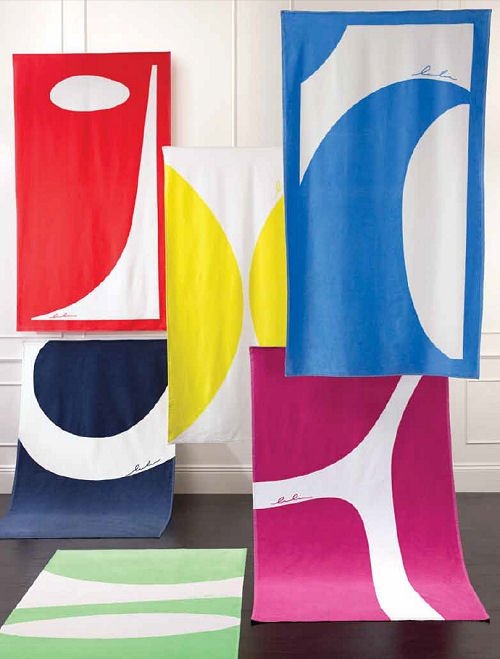 What's your favorite color? Chances are this towel comes in it. Even though they're the same brand, each towel is different. Buy one for every member of your family! Every color has it's own design, so you could buy each one, and they'd all look different.
Price: $79 at finelinenandbath.com
11

Doctor Who TARDIS Bath/Beach Towel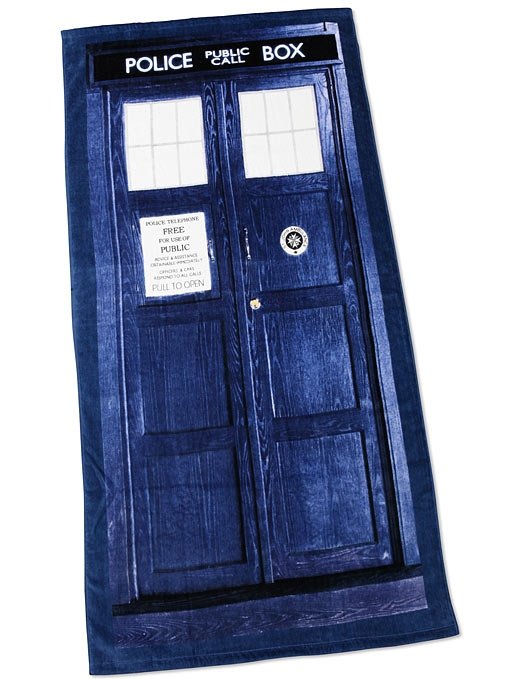 When you're a huge fan of something, you want to scream it to the world. If you love Doctor Who, how could you resist this TARDIS towel? It's the perfect way to find additional fans. Once they see your towel, all of them will flock to you. You'll look stylish, and you'll have new people to fangirl with over the latest episode of your favorite show.
Price: $15 at thinkgeek.com
12

Martha Stewart Collection Catch of the Day Beach Towel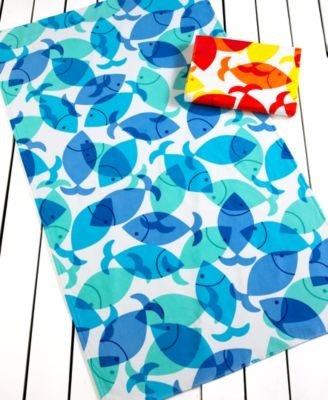 You can't go to the ocean without seeing some fish. Why not buy a beach towel that reminds you of how beautiful that ocean really is? The water is filled with gorgeous creatures we can't help but admire. The best part? This towel comes in cool and warm colors, so you have a choice in which one you'd like to buy.
Price: $25 at macys.com
13

Hibiscus Pink Beach Towel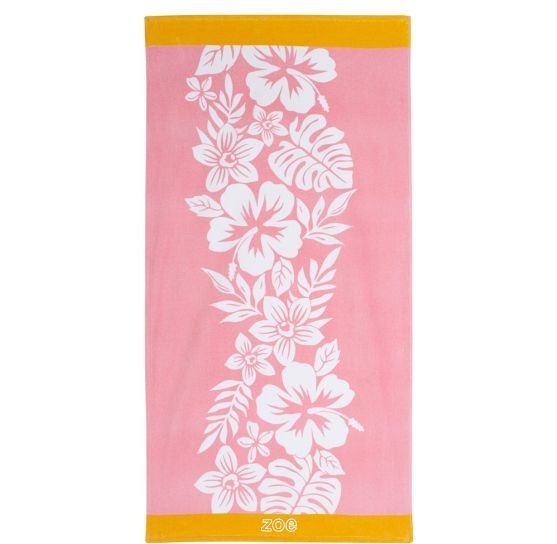 Pink and white are an excellent color combination. It creates a look that is both sweet and innocent. If you want to be the most beautiful babe on the beach, you need a towel that doesn't overshadow you. This one will be a cute enhancement to your suit, but won't distract from it.
Price: $20 at pbteen.com
Prepare for the upcoming hot, sweaty days by buying a towel you're eager to show off. Do you have a towel that you never go to the beach without? What does it look like?
Please rate this article