COMMENT
I love autumn; the cool breeze, the cute and cozy cardigans, and the different decorating ideas for fall that you can use in your home and even for parties! How gorgeous is that top photo, I've never seen anything like this pinecone lamp before...I am definitely inspired! Bring in the pumpkins, the leaves, acorns, and these 8 Decorating Ideas for Fall as turn your space into a warm and inviting place for everyone to enjoy this season...
1. Acorn Mirror: Living Room Decorating Ideas for Fall...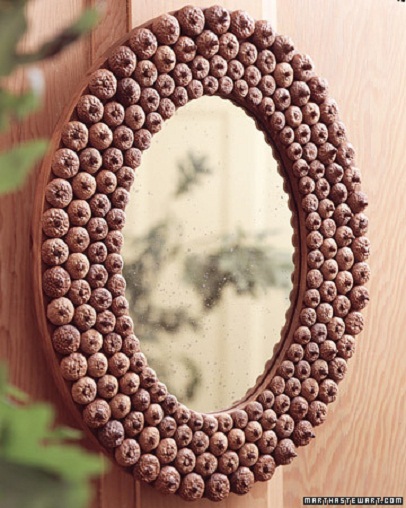 At first glance you may just think what a beautiful mirror this is, but if you take a closer look you will see the frame around the mirror is made up of acorn tops! This would be a lovely decor item in your living roomif you are looking for decorating ideas for fall that are great conversation pieces. Check out Martha Stewartfor the DIY steps and maybe add a little gold or silver spray for a bit of sparkle!
Beans & Gourds: Simple Decorating Ideas for Fall...